Interview with Adam Warren, Founder of Alcatraz Beach Club
From being the founder of a clothing brand to essentially being both curator and head of a magazine and being an art director of a creative agency, Adam Warren, caught up with Sadie Bailey to chat about not only his recent projects and collaborations but also the process of creating your own various creative outlets.
Talk to me about Alcatraz Beach Club. What was the initial concept behind it and how have you expanded upon that over the past few years?
ABC is a clothing label which, in some form or other, has been going since I was in college. It was initially run as a skate company but as we've moved on from that scene a little bit, it's turned into a platform where we channel our interests and collaborate with artists/photographs on a variety of products and creative outlets. We try to have fun with it.
I'm gutted I wasn't in the country to check out your most recent pop-up. Do you have any plans for another?
Definitely. We got our friends over at Reservoir (Fiftysevenmafia) to perform some tunes at the last one which was really fun, as well as bringing in artworks and other projects by people close to us. I'd also love to organize a presentation for a release at some point.
You recently released the first issue of Bitter magazine with your friend Hoagy Hickson, a project which has taken you 3 years to produce. Why did you two decided to collaborate on a print project rather than your other creative outlets?
I think we're both hoarders of art books and all things print so when we decided to work on something together it seemed like an obvious route. Looking back, three years is a stupid amount of time to spend on it, but I think the fact that we took such a slow, lazy approach helped us refine the direction we wanted to take with the mag. I also think there's a culture out there for churning out rushed content to compete with everything else. It was nice to go against that.
In a time where new independent arts & culture magazines are popping up every single day- what does Bitter bring to the table? How does it differentiate from the masses?
I'd say our archive–like, full bleed format is something that differs from the heavily curated or collaged spreads you see in lots of mags. We also don't contextualize the work with text (unless it's an article or interview) - the idea being that if someone flicks through and something catches their eye, they can check the back cover for the credits and research the contributor themselves. I think too many magazines feature half-assed articles that don't present anything especially insightful to the reader.
You also may have noticed that we named this first edition the '#FFFFFF Issue' (corresponding to the color code of the cover). We don't necessarily want to take chronological structure to the issues. We want to combine content that works well together as an archival publication instead of the latest projects from each contributor.
Talk to me about the art direction of the magazine. Every page is a full bleed, some of the only written texts are an essay about the invention of coinage and a Belgian art fair, plus you showcase a range of photography, illustrations & paintings without any introduction or explanation. Quite simply, why?
I enjoy people's confusion when they see the coinage essay in there - it's a fully referenced text by my friend who studied Ancient Arabic history. If we do include essays or articles we make sure that it's written by someone who's genuinely interested in the subject and has something to say as opposed to it just filling the gaps in the mag. I'm also really happy with the Billy Bradley poems opening and closing the publication, they often seem to go unnoticed.
What have been some of the more noteworthy ABC projects you've curated over the past few years?
The Ollie Murphy collab is a project I'm still proud of. It's quite a loud graphics as ABC tees go, but it was just a cool experience mixing one of our favorite musicians with an illustrator we'd followed for some time. More recently, the SS17 shoot with Charlotte Ellis as well as the Billy Boyd Cape video. Crazy to watch Billy and Molly (the DP) messing around with 10 year–old, expired 16mm film. Getting stocked by Fudge Up Nothing in Japan last year was a pretty big milestone for us, too.
I think it's great that, many years later, you're still supporting and showcasing the same artists you initially did. Are there any other featured artists that you've worked with before?
Yeah, I mean it's all such a connected network that Bitter's ended up being a little diary of my last 3 years. The Doormats were Oscar Leyens' band (Oscar's part of ABC). Billy Boyd Cape directed the ABC mini film shot on 16mm which was a great project. Brainchild Festival is in there as Charlie Boyden and I built this year's 20–metre long welcome sign out of found pallets. Like I said, lots of connections.
What is Studio John? I've seen it pop up a few times in regards to both ABC and Bitter.
Studio John is essentially a creative agency. Since there are a lot of different ongoing projects amongst the people I work with regularly, we thought it would be best to put them all under one overarching company. I'd love to see it develop into a proper design studio, personally.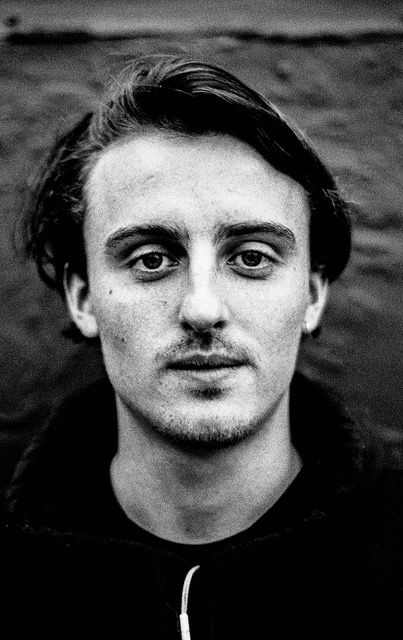 "I'm a strong believer of the 'fake it 'till you make it' philosophy – so hopefully, I make it!"
You've gone from being the founder of a clothing brand to essentially being both Editor in Chief of a magazine & Art Director of a creative agency as well. How do you find the time to keep up with it all and, not to mention, endlessly executing beautiful pieces of work?
Haha, that's very kind but also a bit generous as these are all my own ventures. I work very much in waves and will often manage to get through a few seasons of a TV show before getting any sort of creative push. My girlfriend's a little bit concerned at the amount of Netflix I watch. But yeah, I'm a strong believer of the fake it 'till you make it philosophy – so hopefully, I make it!
What are some of the projects you've worked on under the title of Studio John?
At the moment, the Studio John portfolio mainly consists our past work as opposed to recent commissions: some short editorials for ONLY NY alongside a few other photo shoots, album artworks, promotional content and identity for my friends over at Family Tree Events. We had some typography design published in a Swiss book about the history of ampersands, haha. But we have a few exciting projects coming up soon including some merch design for an illustrator, a music video, and a couple books!
Explain the 'inthestudio' Spotify playlists and why the emphasis on not shuffling?
The playlists are the brainchild of Charlie. Music is such a big part of our lives that it just seemed obvious to share what we've been listening to recently in our currently non–existent office. The emphasis on not shuffling is Charlie thinking he's cool and spending hours on the song order. They're great, though. Check them out.
Why the name, Studio John?
When brainstorming a name, Charlie Rowe and I remembered that both our middle names are John. So we thought, "Fuck it, Studio John" it is. We then went on to get Js tattooed on our arses to cement the idea. Fun times.
What is Mean Zines?
Mean Zines is sort of what lead to Bitter, thinking about it. Hoag and I would sit in Louis Nye's room (another Bitter contributor who created the postcard inserts), all churning out a multitude of pretty bad zines. I think I prefer the name 'Mean Zines' to anything that we actually published.
Can we expect to see anything from that in the near future?
I'd like to revisit it. It might be in the Studio John to–do list.
Everything I've seen from you so far has a very simplistic, yet powerful, design to it. Is there a main source of inspiration you feed off of?
I'm a big fan of the classics like Peter Saville, Bauhaus, and all the Swiss grid-system type designers, etc. My general philosophy regarding design is that every aesthetic decision needs a justification, it's all about editing out the unnecessary. Having said that, I think the world would be a lot less colorful if everyone thought like me. (laughs)